Unique. Solid. Secure.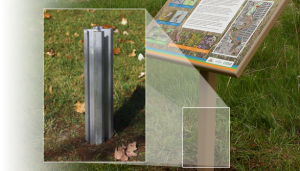 Our standard GroundKey is a 915 mm (36 in) solid aluminum extruded post designed for the strongest and easiest installation.
How It Works
With the use of concrete, we set the GroundKey, 610 mm (24 in) below grade. Our P80 Posts are installed securely over the Ground Key left above grade. Hidden and vandal resistant stainless steel hardware is used to lock the post into the Ground Key for a solid installation. The GroundKey allows for the sign to be removed if needed for storage or landscaping. GroundKeys can be customized to fit any size post and for installations on concrete.