Safety. Direction. Visibility.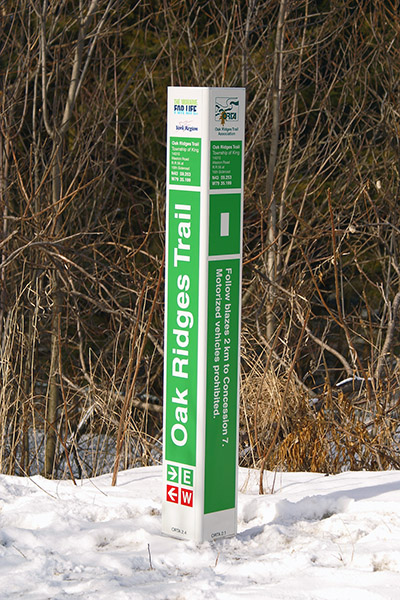 The TrailKey is the perfect solution for exterior way finding. Our exclusive TrailKey is a 190 mm (6 in) square aluminum extrusion with radius corners and is slotted for changeable graphics panels. The standard height for our TrailKey is 1500 mm (59 in) but is available in any size. SunGlaze™ Reflective offers full colour graphics with extreme visibility at night and in low light conditions. SunGlaze™ Reflective is a long lasting, durable reflective vinyl with UV resistant Graphics to prevent fading. Graphic panels can be easily changed allowing for updates of sponsors, events or important trail information.
Identification
The TrailKey makes your trail safer by keeping your trail users are well informed. The TrailKey can identify the name of the trail, clearly mark trail and road crossings and intersections, identify entry and exit points and display trail etiquette symbols. Some of the most important information to display on your TrailKey is the address and GPS coordinates of the location. If in the unfortunate event that a trail user becomes injured on your trail and calls 911, they can give them their exact GPS location so they can be found quickly.